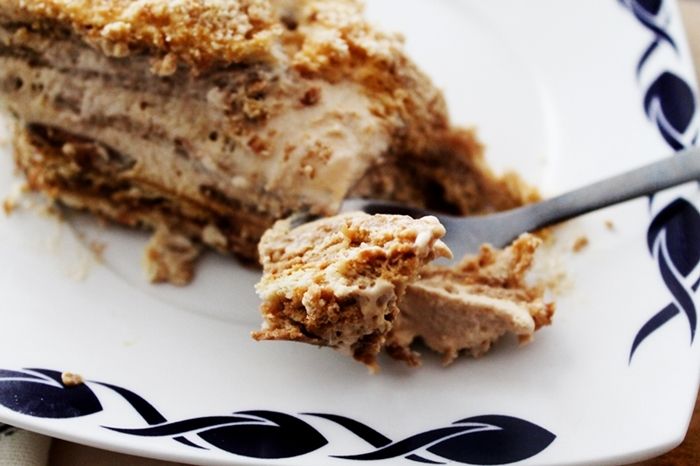 I have already shared here a recipe for
bolo de bolacha
but, as I know that not everyone enjoys the traditional recipe, I decided to share a recipe of
bolo de bolacha
that doesn't take butter (and that is less sickening!).
If you try it, don't forget to share your opinion!
Já partilhei aqui uma receita de bolo de bolacha, mas, como sei que nem todos gostam da receita tradicional, resolvi partilhar uma receita de bolo de bolacha que não leva manteiga (e que se torna bem menos enjoativo!).
Se experimentarem, não deixem de partilhar a vossa opinião!
Bolo de Bolacha (sem manteiga)
Ingredients:
Ingredientes:
Rich Tea biscuits

Bolacha Maria q.b.
1 can of boiled condensed milk

1 lata de leite condensado cozido
2 packets (400ml) of cream

2 pacotes (400
ml) de natas
Stir the cream to leave it firm, add the boiled condensed milk and stir a bit more to involve.
In a mold with removable base, make alternate layers of biscuits, soaked in coffee, and cream, always finishing with cream. Decorate with grated biscuits. Tip: put several biscuits inside a plastic bag and pass with a pastry roll over it (it will make it much easier to crack the biscuits in a uniform way and without getting everything dirty!).
Take it to the fridge for several hours. Tip: leave the cake in the fridge overnight.
When you're about to serving, open the ring and take it off carefully. Tip: pass over a knife around the cake to make it loose.
Bata as natas bem firmes, junte o leite condensado cozido e bata mais um pouco para envolver.
Numa forma de fundo amovível, faça camadas alternadas de bolacha, embebida em café, e creme, terminando sempre com creme. Decore com bolacha Maria ralada. Dica: coloque várias bolachas Marias dentro de um saco de plástico e passe com um rolo da massa por cima (vai tornar muito mais fácil partir as bolachas uniformemente e sem sujar!).
Leve ao frigorífico várias horas. Dica: deixe o bolo no frigorífico de um dia para o outro.
Quando chegar a hora de servir, abra o aro e retire-o com cuidado. Dica:pode passar uma faca a toda a volta para soltar o bolo.